rabble's new home in Second Life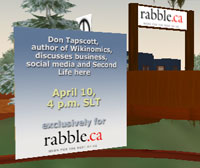 I have to admit that when I first heard of Internet-based virtual worlds like Second Life some years ago, I didn't rush out to sign-up and create an Avatar. Given that I've never even found the time to play a video game on a computer that I've had for three years, it certainly wasn't high on my list. And, when Web of Change alumni Darren Barefoot created the satirical site Get a First Life, I was laughing pretty hard.
However, the last few months has started to make me re-think my position. Not entirely, but a bit. Last fall I started working with the team at one of Canada's most established independent online news sites -- rabble.ca -- to help them explore a strategy (and a new look) for the next five years. One of the newer visionaries at rabble.ca (and there are many) is Wayne McPhail, a founder of the rabble podcast network. Not happy to sit back and just produce a number of quality podcasts, Wayne has continued to blaze a trail for rabble -- this time right into Second Life.
Over the last few months, I've watched Wayne:
Find a permanent piece of land for rabble in Second Life (and even virtual land doesn't come for free!);
Build a physical structure for rabble (Wayne used some basic platform objects to make a very cool, modular tree house);
Create an announcement for the upcoming Don Tapscott talk in Second Life (exclusive to rabble);
Engineer a fully functioning podcast chair for Second Life. It highlights the three latest rabble radio shows with links to the archives, the main rpn page and rabble.ca.
Below are a number of photos that Wayne has taken throughout the process.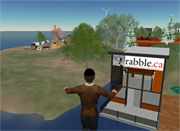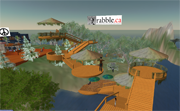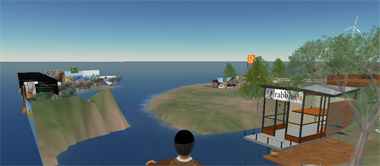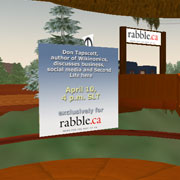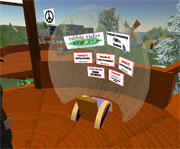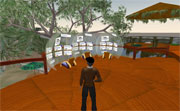 I must admit: the process is fascinating! And though I'm not quite ready to take the plunge myself, several of my non-profit tech colleagues have hopped right in. And, as I work through the design and strategy challenges around the upcoming re-launch of rabble.ca, I'm forced to think about the opportunities around Second Life and how to integrate it into a Web site & online strategy.
Ideas welcome. ;-)
About
Hi, I'm Phillip Smith, a veteran digital publishing consultant, online advocacy specialist, and strategic convener. If you enjoyed reading this, find me on Twitter and I'll keep you updated.